2013 Cross Country, State Meet
Well the 2013 CC season has reached the finish line.
It has been an exciting year in itself but speaks of great things for coming seasons!
The State Meet itself was quite the challenge for our runners.
Senior, Anthony Parameswaran missed his PR time by just 20 seconds but that was still good enough to finish 19th. An improvement over last years 42nd place finish. Anthony certainly leaves his mark behind as he owns the Sparkman School Record in the Boys 5k!
Sophmore Bailey Herfurth's first appearance at the State Meet showed that he will be someone to contend with in the coming seasons. He finished 85th out of the 206 competitors, 31 seconds off his best time and (for reasons as yet unexplained to me) got a bloody nose!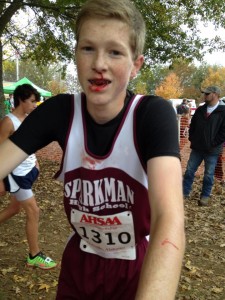 8th grader, Renita Vander Schaaf came within 5 seconds of a new PR and finishing 74th and closes out the year owning the School Record in the 2 mile, 2.1 mile and the 3200m!
It didn't quite seem to be Junior, Kelsey Johnson's day. Her time was off her best mark by over a minute, leaving her with a 136th place finish. On the positive side though, she DOES currently own the Sparkman School Record for the Girl's 5k and she DOES get to come back next year for another run at state!
7th grader Emilia Poole was one of ONLY 8 seventh graders who made it to state! Though she was about 40 seconds off her PR time for the 5K, she finished 143rd of the 199 runners. This was only the third time she had competed in this event at the High School VARSITY level. She finishes the season as the 6th ranked 6A, 7th grader for the 5k in the state.
So everyone can take the week off but then … Next season is just 9 short months away!