Another Win for Sparkman Cross Country!
The

Sparkman XC Team

continued to shine with their STRONG performance at the Warriors Invitational  in Florence.
Varsity Boys finished in 1st PLACE led by Sr. Seth Graham who scored an individual 1st PLACE FINISH.
Jr. Jake​ R​ussell was hot on Seth's heals with a 5th place finish and finishing just outside the top 10, in a field of 150 runners, was Jr. Harrison Miller in 11th and Sr. Bailey Herfurth in 12th.
JV Boys were also showing their strength with a 2nd Place Finish!
Sparkman was again represented strongly in the top finishers with (7th) Austin Al-Dijaili finishing in 3rd Place! Less than 6 seconds behind him on this 3200m course was Fresh. Shafi Muhammad who earned himself 4th Place. Rounding out the top 10 was Fresh. Isaiah Vasquez and not far behind him was (8th) Omar Myers in 12th.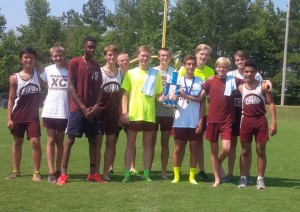 Our Varsity Girls finished with a team, 8th place with our top finisher being Jr. Hailey Brown followed Soph. Makayla Tomaino  just 6 seconds behind her!
Fresh. Mary-Frances Burch lead the way for the JV Girls 5th place finish, with a very strong, individual 4th place finish. Scoring her first Top Ten finish was (8th) Elisha Jones who finished 8th.