Meet your 2014 STATE QUALIFIERS!
Anthony Parameswaran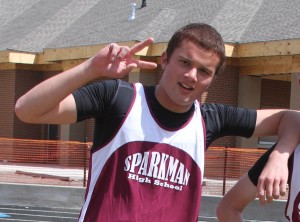 Sr- Anthony Parameswaran is our DOUBLE qualifier!
Anthony qualifies in the 1600m and the 3200m distances and is the current SHS Record Holder for both. Anthony has been a strong presence on the team since his Sophomore year and has done well this year, with over 12 trips to the medals podium(including 3 Firsts) and becoming the team's top points scorer. He even had a 3rd in the 800m this year and just missed qualifying in that event by 2 places. Despite all of that, this will be his FIRST trip to the State Track Meet. Anthony is currently the 10th ranked 6A boy in the 3200m and 15th in the 1600m.
Rob Russell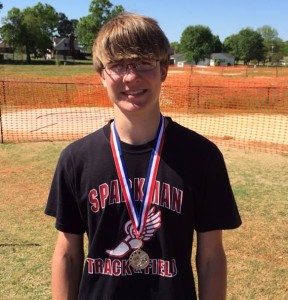 Jr- Rob Russell is our other State representative for the BOYS, finishing in a Tie for 2nd in the Polevault. It's hard to believe that Rob only started pole-vaulting last year. At that time he was scrambling to even make the qualifying height! This year Rob has been to the medals podium for the Polevault, 7 times(including 3 Firsts) and holds the SHS Record for this event. He is our 2nd highest, boys points scorer.
Rob has participated in 3 other events this year and has been pre-paring himself to once again participate in the State Decathlon.
Kai Perkins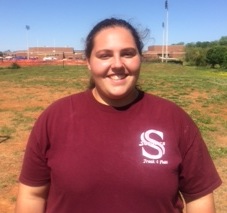 Jr- Kai Perkins qualified for State with a medal winning 3rd place in the Discus.
Kai started throwing Discus as an 8th grader, placing as high as 7th in a Varsity meet that year. Since then she has been a consistent source of points for our Senator Girls, finishing in the points all but twice! This year she has been on the medals podium 6 out of 7 times and 3 of those were for Firsts!  Kai has also competes in the Shot Put and has thrown the Javelin.
This will be Kai's first trip to State Competition. She is currently the 4th ranked 6A Girl and 10th ranked Girl overall in the State for the Discus.
Kelsey Johnson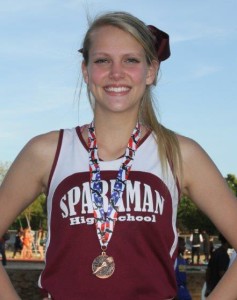 Jr- Kelsey Johnson made it to the State Meet the hard way, by earning a "wild card" in the 100m Hurdles. Kelsey ran a NEW SHS RECORD time in that event at Sectionals but finished 6th.
There doesn't seem to be an event that Kelsey can't do if she puts her mind to it! Last year as a Sophomore she entered the State Heptathlon(7 events in just 2 days!) and showed very well.
Kelsey is the owner of FIVE current SPARKMAN SCHOOL RECORDS, 2 of them set just this season! She started running the 100m Hurdles last year and the 14 finals she has run since then … she finished in the points all but 2 times! She was also the SHS Girl's TOP POINTS SCORER heading into sectionals.
This will be Kelsey's second trip to the State Track Meet in the 100m Hurdles.
Gabrielle Griner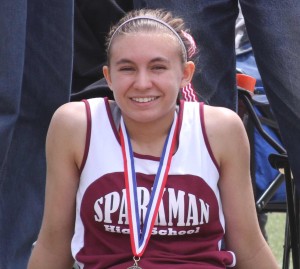 9th grader Gabrielle Griner, struggled a bit for the first time all year in the Polevault, but still managed to finish 4th and earn her qualifying spot to the State Meet.
Gabrielle has been Polevaulting for Sparkman since she was in the 7th grade. In that time she has been in 21 – Outdoor Season, Varsity meets and has finished in points scoring position for all but 2 of those – both of which were State Track Meets. One of those State Meet trips, (last year) she finished 9th!  This last season she has really come into her own, going to the medals podium in every meet she entered except the Section Meet, scoring 5 second place, 1 third and her FIRST Varsity win!
Gabrielle is the current Sparkman Record holder in the Girl's Polevault. This will be her third trip to the State Track Meet. She is currently the 10th ranked 6A Girl and 15th ranked Girl over all in the State.
Lauryn Hall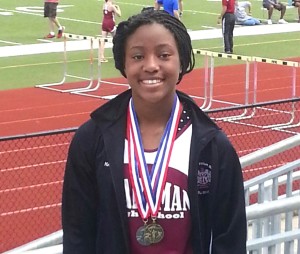 8th grader  Lauryn Hall is the surprise qualifier for this year. In just her 4th ever time to compete in the 100m dash, she finished 5th – earning her way to the State Track Meet!
Being that she is so new to the team we don't have much to tell you about her. Her time of 12.57 seconds in the finals was only 3 tenths of a second out of the medal position. She also just narrowly missed qualifying for State in the 200m, finishing 6th in the finals.
Lauryn will is also one of the members of our State Qualifying 4x100m team!
Girls 4x100m Team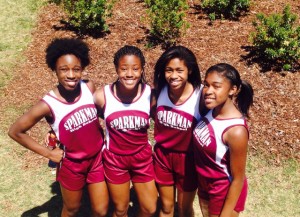 Our Girls 4x100m has really done well for themselves.
Though new on the scene, they are turning out times very close to the school record for this event!
As they gain experience with starts and hand-offs, they just might break the school record at State!
(8th) Lauryn Hall – Our 100m, State Qualifier!
(8th)Milan Hunt – This is also Milan's first year to run track and her 2nd Varsity meet.At this year's N.A. JV Championship she took 10th in the 100m and 16th in the 200m.
(9th)Aubrey Parker – Aubry ran track for Sparkman last year. As an 8th grader she placed 2nd in the 200m dash at the North Alabama JV Championships and this year placed 4th. This Section meet was her 2nd Varsity competition of the season.
(8th)Alessea Rice – Another of our JV girls that has stepped into the limelight. Alessea placed 5th in both the 100m and 200m at this years North Alabama JV Championships. This Section meet was her 2nd Varsity competition of the season.