New SHS Record at Jessie Owens Classic!
The Jessie Owens Classic is billed as one of the biggest and toughest meets of the year and the 2013 edition lived up to it's hype. Still, we had several athletes including the entire JV Boys team who rose to the challenge!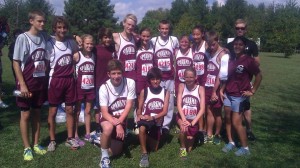 (for complete SHS results, click here)
With well over 200 teams and at least 3756 athletes with recorded times, this was tough meet.
For the Girls Varsity team we are still hampered by not having enough girls entered, to qualify for team points.
Once again Junior, Kelsey Johnson led the way, followed by Sophomores Lauren Reza and Kaitlyn Williams.
The Boys Varsity team was once again led by Anthony Parameswaran who finished 51st out the 320 runners in the "Gold" 5k division. Anthony was not quite on his game, as his PR time would have given him a 13 place finish but to give you some idea of the strength of this field – NO varsity runner from North Alabama finished within the top 15 and only 4 finished in the top 50.
The Girls JV team put up another good showing, finishing just outside the top 10, in 12th place.
8th grader Renita Vander Schaaf once again led the team, finishing 26th out of the 362 runners. Renita was slightly off of her best pace for this distance which would have only moved her up to a 20th place finish. Only 3 girls from North Alabama finished in front of her.
Perhaps our best JV Girls performance of the day came from 9th grader Hailey Brown who stepped it up and turned in A NEW PR for the 2.1 mile distance!
The Boys JV team really turned it on for this meet.
We had TWO 9th grade runners who beat the School Record for the 2.1 mile but alas, there can be only one record holder and that honor goes to Jake Russell who finished with an individual 6th. Harrison Miller who now holds the 2nd fastest time in school history scored an individual 10th place to go with his PR run.
In fact all but one of our JV boys set NEW PR's in this 2.1 mile race, a major factor in their 9th place team finish.
Scoring NEW PR's were 7th graders John-David Ray, Isaiah Vasquez, Riley Edwards and 8th graders Michael Fulda and Jake Maier.
Good job Senators!