Endings and Beginnings
For the first time in over half a decade, a familiar competitor will be missing from the Top "A" division of the High School Girls Pole Vault here in Alabama.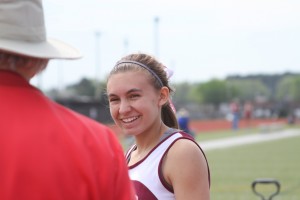 After week one of this season, Gabrielle Griner (Sr. Sparkman High School) was the top vaulter in the state with a jump of 10′ 7″
The next weekend she won the Panther Invitational with a jump of 10′ 6″ and then had this near miss at 11′ 1″
Two days later she tore her ACL, ending her High School career.
It Runs (or JUMPS) In The Family
Gabrielle is one of those "single event" athletes because she is a pole-vaulter. Not an athlete who "does" the pole-vault but a Pole Vaulter. While she has been competing in this event since she was in the 7th grade, she was vaulting long before that. She has been taking a full run and planting a pole since Elementary school –
but she actually had her first lessons before she was two!  While dad moved the pole she was working on her swing and landing in piles of blankets!
That Gabrielle would become a Pole Vaulter may have been un-avoidable as it seems to run in the family genes. Her father, Gary Griner, was a State Champion vaulter from Huntsville High School ('81) who was coached by HIS father, Gary Griner Sr., a vaulter who started with bamboo poles and landing in sand or piles of sawdust.
Gary Sr., now in his 80's, has been a fixture in North Alabama Pole Vaulting since coaching his son. He has always done so as a volunteer and over more than a quarter century has provided countless hours of coaching and lent the use of tens of thousands of dollars in equipment to athletes from all across the area. He does so because there is a need and he loves the sport. That willingness and desire to help athletes who take vaulting seriously is another thing you see in a lot "former" vaulters.
Still, it hasn't been an easy ride for Gabrielle. The Pole Vault is a very "equipment intensive" sport. You can't just go out and do this in an empty field beside the school. Very few schools actually have the facilities needed to participate in this sport. A pit can cost $12-$15,000 for a small "entry level" pit. Then you need standards (several thousand more), a plant box ($300 – $800), the now required "box collar" (another $500). Then you need some sort of runway for your pit (100′ of rollout runway starts at around $700 plus freight shipping). Of course, you need poles and those will set you back another $300-$500 dollars each. Gabrielle's High School, although one of largest in the state is one of those schools that does not have such equipment.
So the cost of poles and task of finding a place to practice jumping on a regular basis fell on her and her family and has been an on going challenge. Challanges were meant to be faced though and being blessed with family support (both financial and first hand training) and their relentless search for additional training she has risen through the ranks.
Of course there is the support of the Vaulting community itself.
If you've never been involved directly with the Pole Vault you may not have noticed this but Pole Vaulters tend to be a very supportive group. Something about going through the challenges of this very physically and technically difficult (and potentially dangerous) event, seems to make them a band of brothers and sisters. For the most part even Vaulters from different schools seem ready to help one another and this comradery continues even for those who go on to become coaches. According to her father, Gabrielle has had the help of many coaches and former vaulters throughout the state, "The Vaulting community tends to have a very 'We are in this together' attitude" say's Gary Jr. "Locating poles, coaching, camps and practice facilities … with out the parents, coaches and athletes helping each other out, being a successful high school vaulter in this state would be almost impossible for most kid."
You Get Out What You Put In

For Gabrielle, the years of hard work and dedication have shown result –
– She holds her School record at 11 feet.
– In JV competition Gabrielle was 3 time North Alabama Champion and in those 3 years never lost a JV meet.
– In the 6 years she has been vaulting (HS & Summer Track) She has had 20 First place wins, 39 Podium finishes for a total of at least 62 Points finishes.
– Last year she was the Metro Area Champion and AHSAA 7A- Region 4 Champion and placed 4th in State (on attempts).
This year she seemed poised to be a serious contender for 7A State Champion and if she had been able to qualified for State, she would have been the first Girl to ever make it to State in the Girls PV for 6 years in a row (the GREAT Margeret Ollinger did not go to State until her 8th grade year).
While this may be where Gabrielle's High School career comes to an end, her Pole Vaulting career does not!
This past week Gabrielle signed with the Colorado School of Mines, a very selective "Engineering Only" school located in Golden Colorado.
A 4.0+ student with top AP marks and ACT score to match, she has been offered both an Academic scholarship AND an Athletic scholarship at Mines. They are a D2 school and as the Pole Vault Coach there pointed out, 14 feet in D2 turns out to be the same exact height as 14 feet in D1 !
We look forward to seeing if this Alabama native can soar to those heights at her new altitude!
(insert signing photo)